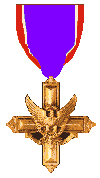 THE DISTINGUISHED SERVICE CROSS
The Distinguished Service Cross is a medal second only to the Medal of Honor and, as described below, is awarded only for heroic action in combat. During its time in VIETNAM only ten Distinguished Service cross medals were awarded to soldiers in the 1st BDE 5th DIV. Of these ten, five were awarded to men of the 1st BN 61st REGT or Task Force 161.
ARMY REGULATION 600-8-22 dated 22 Feb 1995
The Distinguished Service Cross, section 3742, title 10, United States Code (10 USC 3742), was established by Act of Congress 9 July 1918 (amended by act of 25 July 1963).
The Distinguished Service Cross is awarded to a person who while serving in any capacity with the Army, distinguished himself or herself by extraordinary heroism not justifying the award of a Medal of Honor; while engaged in an action against an enemy of the United States; while engaged in military operations involving conflict with an opposing or foreign force; or while serving with friendly foreign forces engaged in an armed conflict against an opposing Armed Force in which the United States is not a belligerent party. The act or acts of heroism must have been so notable and have involved risk of life so extraordinary as to set the individual apart from his or her comrades.
[RETURN to TEXT-WW I]