A sketch map overview of the sequence of events on 4 September 1968. While there were 4 American soldiers killed there were 23 NVA bodies left on the battle field.
Extracts from the radio logs kept by the BDE and BN HDQ are presented below the sketch map.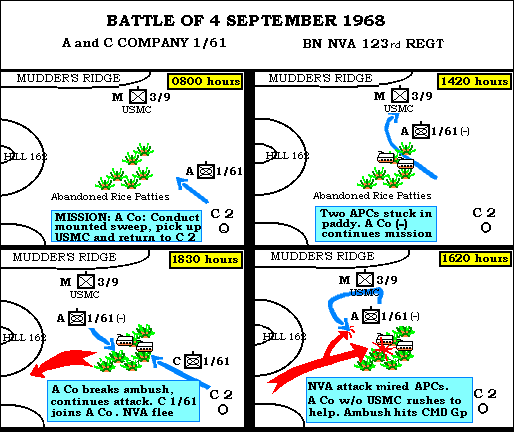 0845 hours
A 1/61 moved out at 0645, is now at 065650, pick up point for M/3/9 (MIKE Company, 3rd BN, 9th REGT, 3rd DIV,USMC)
1140 hours
M/3/9 is located at 058653. Sighted an active Arty position at 034683, A 1/61 is located 500-700m south of M/3/9.
1205 hours
Have A 1/61 link up with M/3/9. Be prepared for A 1/61 to stay out. Tentatively M/3/9 is scheduled to be extracted at 1400. In either case select a night defensive for A 1/61 and M/3/9
1335 hours
M/3/9 Marines spotted 6 NVA in open moving to SW direction carrying packs could not determine if they were carrying weapons due to lack of visibility.
1550 hours
From Commander A 1/61, M/3/9 and A 1/61 have linked up and returning, one of their security elements is in contact, will keep you informed. Location of contact is YDO58647. A 1/61 has dropped M/3/9 and going to the relief of that platoon at 060668.
1630 hours
From Co A 1/61, A 1/61 is in heavy contact at YDO63640. Receiving RPG rounds, need a Medevac. CO A 1/61 is hit, the VC are trying to capture the APC that CO A 1/61 and FO are in.
1715 hours
From 1/11, A/161 needs two more Medevacs immediately.
1725 hours
From A1/61, M/3/9 receiving much Arty fire. Casualties 3 KIA, 27 WIA to include CO. Need two Medevacs.
1755 hours
M/3/9 sighted 18 VC moving west at 080650.
1845 hours
A 1/61 Have 60 mm incoming.
1815 hours
A Co 1/61 in contact approx 1600 hr.at 058646, contact continues, RPG's used, also enemy Arty at 1715 hrs on A Co position. Evac WIA, leaguer and reinforce A 1/61 with C 1/61 Co C enroute now. Casualties (Cumulative) FR KIA 2 FR WIA 25, IN KIA 9, IN WIA 0
1915 hours
From CO 1/61 to TOC, M/3/9 is located at YDO075662.I have given him orders to hold where he is.
1918 hours
From CO 1/61 to TOC. Request to know condition of CO A/1/61 and his FO's as soon as you can find out.
1928 hours
A and C 1/61 are in position and are towing disabled vehicles into their leaguers.
1932 hours
From A 1/61 reports 38 NVA approaching from the west.
2125 hours
From S-3 A 1/61, If you prepare LZ at A and C Co location we will send Medevac while there is a break in weather.
2140 hours
From XO 1st Bde to TOC for CO 1/61 CO A 1/61 was just going into surgery. They are worried about his arm. FO was sent to Da Nang. No word of RTO yet.
2246 hours
From A 1/61 Medevac lifted off at 2246 hours. Surgeon stayed on ground. Location of A and C at YDO70635.
OPERATION SUMMARY:
A Co 1/61 moved west along the KW grid line 65 to effect link up with M/3/9 Marines. Link up was effected with M/3/9 with one platoon of A Co at 1550 hrs, About the same time another platoon of A 1/61 made enemy contact at YD 058647. A Co dropped M/3/9 and went to relief of the platoon. Heavy contact developed with the enemy, mortar, RPG and Arty employed by the enemy. Friendly losses thus far 3 KIA, 27 WIA. Enemy 9 KIA. Contact continued past 1900 hr.
[RETURN TO TEXT]