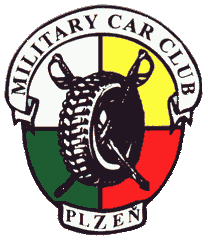 NEZA POMENEME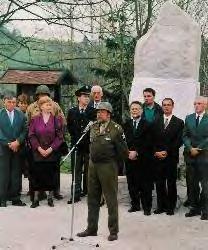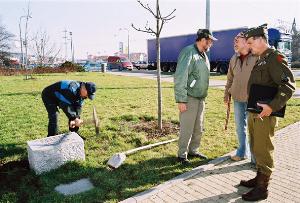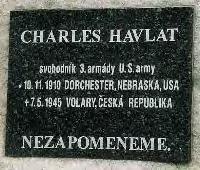 Reims, France, May 7, 1945 - Germany signed the surrender papers and WWII in Europe was over. In Volary, Czech Republic, earlier liberated by elements of the US Fifth Division, PFC Charles Havlat, 2nd RCT, Company C. 803rd Tank Destroyer Bn, 5th Infantry Division died from enemy fire some nine minutes after the cease-fire order and 5 hours and 59 minutes after the unconditional surrender. He was the last combat casualty of the US Fifth Infantry Division, a key unit in LTG Patton's US 3rd Army.
PFC Havlat's sacrifice has been honored with a monument with plaque near the Town of Volary, in the area where Pfc. Havlat died. The above pictures show the original dedication with a speech by Milan Dlouhy, President, Military Car Club Pilsen, the Plaque, and club members working in preparation for moving the monument to an improved site.


The engraved words on the plaque translate as:
CHARLES HAVLAT
Private and part of the 3rd U.S. Army
Date of Birth: 10. 11. 1910 Dorchester, Nebraska USA
Date of Death: 07. 05. 1945 Volary, Czech Republic
"WE WILL NEVER FORGET"

The Military Car Club Pilsen (MCCP) has also been instrumental in having a memorial made for Gen. George S. Patton. The statue is placed on the grounds of the high school in Dysina which will be renamed in his honor, as the
Gen. George Smith Patton High School.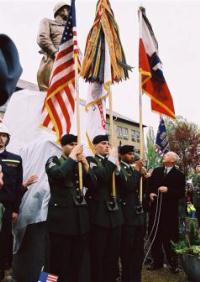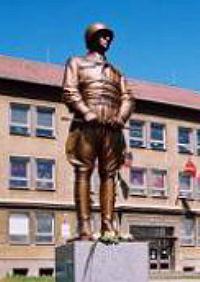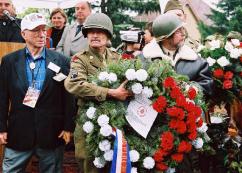 Playing a leading role in the acquisition and dedication of the statue is Gaylord J. Toole (in the WWII uniform, above) who was once a proud member of the 75th Support Battalion, 1st Brigade Fifth Division in Vietnam. He is a member of the Military Car Club and serves as the public affairs spokesperson for them. He is also a teacher living in Pilsen and proudly claims
"Once a Red Devil" - "Always a Red Devil".
In September 2005 the Elementary School of Dısina (where Mr. Toole teaches) was officially renamed the Elementary School of General Patton, Dısina. This is a picture of the naming plaque and the insciption translates as:
Elementary School of General Patton, Dısina
This honored name was given to this school on this special occasion of 60th year commemoration of the liberation of Western Bohemia by 3th American Army under the command of General George S. Patton.
Unveiled on the 3rd of September 2005