THE GAS WAR
The Germans first used gas as a weapon in Oct 1914 against the French at the battle of NEUVE-CHAPEL. It was an "irritant" gas, tear gas, and was so weak that it went unnoticed by the French. Again in January while fighting Russians in Poland the Germans used tear gas. This time it was too cold and again had no effect. However on the 22nd of April 1915, at YPRES the Germans released chlorine gas across a four mile front. As a result of the gas and a heavy artillery barrage the French Territorial troops suffered heavy casualties, broke and ran. In another great blunder of the "Great War" the Germans were not prepared to exploit the wide break in the French lines. During May 1918 the Germans used gas in a battle along the DUNJES RIVER on the eastern front. The battle plan of the Germans had integrated the gas with the ground assault and it was successful.
Gas Clouds Drift Across the Front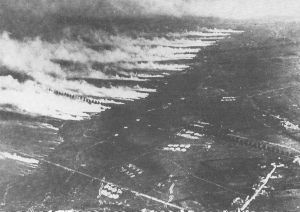 The British quickly developed their own gas warfare plans and on 25 September 1915 released over 150 tons of chlorine gas at the Battle of LOOZ. The wind shifted and most of the gas drifted back into the British lines.
With time and experience new delivery techniques (artillery and mortar shells) were developed by both sides. With the new delivery systems also came new gases. Phosgene, Chloropicrin, Prussic Acid and in July 1917, the worst of the lot, Mustard Gas. Mustard Gas was a blister agent which burned exposed skin on contact, destroyed lung tissue if inhaled and was a persistent gas that stayed at ground level and seeped into trenches while remaining active for days and even weeks. On the battlefield it was Mustard Gas that was most feared and most dangerous.
Waves of troops advance behind a front of gas.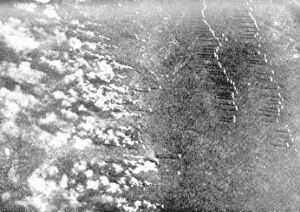 There can be no question that gas was an effective weapon. Records indicate that some 800,000 casualties (all combatants) were from gas attacks. 27% (70,550) of USA casualties were from gas.These figures do not reflect the side effects of reduced alertness and fatigue as a result of the need for gas protective equipment nor do they reflect the morale problems of troops that had been exposed to gas attacks.
As the race to develop more deadly gases continued so did the race to develop protective gear. Totally unprepared for gas warfare, the allied forces initially relied on pads of cotton, soaked in chemicals, tied across nose and mouth as their only protection. Working at a feverish rate, new and improved masks were developed and fielded by all combatants. Protection from gas was not just a problem for the troops. Gas protection was required for horses, dogs and even carrier pigeons. Gas proof shelters were developed for rest, feeding and aid stations.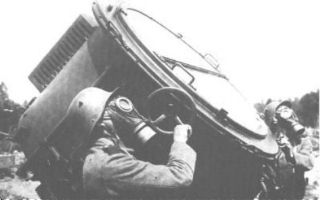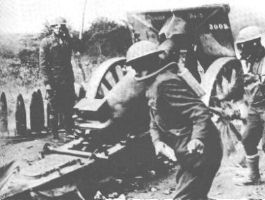 GERMAN MASK CANISTER
FRENCH MASK WITH BACK CANISTER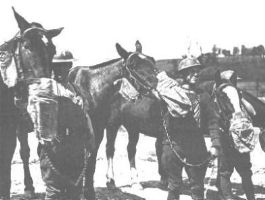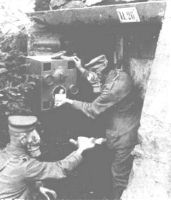 CHEMICALLY TREATED CLOTH FOR HORSES
GAS PROOF PIGEON CAGE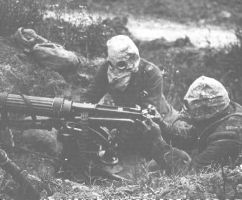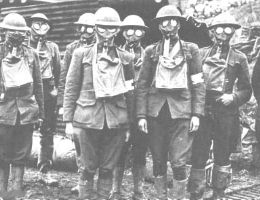 CHEMICALLY TREATED FULL HOOD
ENGLISH/AMERICAN CHEST CANISTER    
And the threat remains. US Troops in DESERT STORM wore full face masks as shown below. Along with full body protective clothing it made the desert even hotter.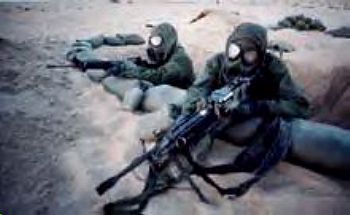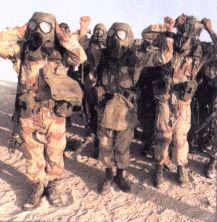 U S TROOPS WITH FULL FACE MASKS AT NIGHT US TROOPS PRACTICE " ON - OFF"