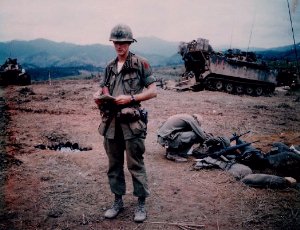 First it is necessary to understand how the name Dizzy became the nickname of Captain Dean. Captain Dean was an avid baseball "nut", had played third base and was a heavy hitter with his bat. Another baseball player by the name of Dean was a pitcher for the St. Louis Cardinals, Chicago Cubs and St. Louis Browns. In 1953 this Jay Hanna "Dizzy" Dean was elected to the Baseball Hall of Fame and later became well know as a baseball broadcaster. A Sergeant from the 2nd Platoon gave Captain Dean that nickname and the Sgt. made the mistake of keying the mike as he was using it. The name stuck.
Dizzy's Place was special to Captain Dean and the few troops who understood what he was doing. When at the Rock Pile the NVA kept hitting A Company with indirect fire from the north along the DMZ. Doing a recon Capt. Dean found a nearby knoll that was protected by a razor back ridge and the Rock Pile. NVA fire was always over or off to one side and they just couldn't seem to hit this particular place. It was 1/61 SOP, and one that Capt. Dean had never before altered, that the company never stayed in the same place more than one night, until he found this knoll. A Company stayed there many days. Every night when the company came back from patrolling they made improvements to their positions. The troops didn't like that, being that they already had dug in, but they did it anyway. The company even had supplementary fighting positions and a urinal and a head. They dismounted the 50 cals every night and moved the Claymores and trip flares every day. Finally the troops put up a sign near the entrance to the little combat base. It was a small piece of wood, probably a lid from ammo containers. They had nailed it to a post and it hung on a slant. On it they just wrote "Dizzy's Place-A/1/61".
The small fire base was always special to Captain Dean. Just the fact that they, his troops, put so much into this little place made it a place worth remembering.
ASK THE PILOT